Hello All and Welcome to 2013!

Not that many people have picked up on this yet! Come on guys, lets get involved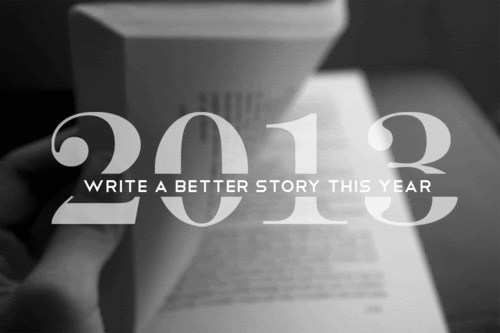 (Original Gif too trippy for words!)
I hope everyone had a lovely break and are fully in the swing of the New Year!
Now this journal isn't a personal one, despite the title- in fact it is a journal I am challenging all of you to write and all of you to help others write. At this time of year, we've made resolutions and I expect half of you have included "write more" as one of those resolutions. This experiment is to help you fulfil that resolution so by 2014 you are sat here feeling achieved.
The Experiment
Prompts. Prompts are awesome. Why are they so awesome- because they get you writing! There are times when you feel unmotivated, wanting to write but not sure what to write about. You could be writing your epic novel but hit a wall and need a break or some inspiration. You may even have that mystery disease known as "writers block" and seeking a cure or have had a complete loss of confidence in yourself as a writer and want to pick yourself back up.
This year, there is already some amazing prompt ideas going around. If you are following the
Glory-Be-Project
, you may have already seen some of these. There is also a fantastic music prompt challenge going around and many more too. In fact, there are so many prompts, you may feel overwhelmed!
So here is the challenge. I want you to create your own prompt journal and start collecting prompts. There is no rush to do them all at once and if you start collecting a significant amount, on those days where you lack inspiration that journal is sat there for you. You can keep updating this- adding new prompts and even linking completed deviations relating to the prompt. You can steal prompts off other peoples journals, or suggest some to fellow deviants. We just all want to get writing!
The instructions! (READ CAREFULLY!)
1. Create a personal journal entitled "My Prompt Journal". You can format this however you desire, but in principal you want to make a list of prompts/links/groups/images you have collected. You may even have a section for contests- this is your journal to manage.
2. Add a link to your prompt journal in the comments of this journal.
3. Visit other deviants journals linked here and offer a prompt for them. It can be whatever you like!
4. Spread the word of this experiment! Add it to your groups journal (supporting groups listed below)
5.

You can now submit your journal (and view others) to
Glory-Be-Project
into this gallery:
glory-be-project.deviantart.co…
Here is mine for an example:
(I want prompts too!)
The Groups
This is a list of awesome groups that you should check out! They have supported this experiment by featuring it in their group and spreading the word and also include several prompt specific groups!
Questions!
Because we encourage interaction, we want you to also answer the following when you link your prompt journal in the comments of this experiment:
1. What are your 2013 writing goals?
2. What kind of prompts do you like?
3. What do you do when you have "writers block" or not in the mood for writing?
Go forth and write!

Here is a unrelated but nice Game of Thrones GIF: